Always looking for a helpful piano teacher with affordable rate?
---
Look no further.
After 6 months to 1 year of lessons with me, my students are able to read music scores, master the basic theory, maintain proper posture for advanced pianistic skills, expose themselves to vast piano literatures, and happily enjoy their musical skills at the piano.
Beginner
The beginner students learn how to play with music from the first lesson, learn variety of beautiful compositions and have an opportunities to perform in public if they want. Enjoy playing piano and have fun.
Whether you have no previous experience learning the piano, or are picking it up again but want to brush up on your skills and knowledge, the Beginner is the perfect place to start.
Intermediate
The Intermediate takes you to the next level in your playing and knowledge of music. If you have completed the Beginner, or if you already consider yourself an Intermediate pianist (you know the basics) then this book is going to take you one step further in each of the three aspects of music.
You'll learn about key signatures and time signatures so you can read a piece of music. You'll learn dynamics and performance. This is the "icing on top" of the music you play. You will also learn more complex rhythms and get to know more complex chords so that you can convincingly play music in a jazz or gospel style.
The Intermediate works on all areas of your practical knowledge and takes you to the stage where you can handle the advanced series of lessons.
Advanced
The Advanced is the next step in your journey. This really starts to look carefully at some techniques that are going to help you build your future as a musician. These skills will equip you for songwriting, sight reading, improvising, transposing (changing the key of a song either for singing, or arrange for another instrument!) and understanding the relationship that links all chords and key signatures!
Intermediate and Advanced level students will have an opportunities not only to improve their performance skills, but also perform in concerts and participate in Competitions.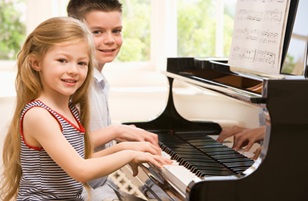 Below are some Frequently Asked Question about Piano Lessons:
What days and times do you offer lessons?
Piano Lessons are available Monday-Tuesday and Thursday-Friday usually during the afternoon/evening time.
Does I need to have my Piano?
Pianos can be quite expensive to buy but don't worry, a keyboard will do nicely. Introductory keyboards are reasonably inexpensive to buy and are a perfect introduction to Piano Lessons.
My daughter is 5 years old. Is she too young?
I have students as young as 4 years old! So, you are more than welcome to start piano lessons any time. For children I recommend 30 minute lessons.
Can I have only 2 or 3 lessons a month?
At first this might seem like a good idea, but I have tried this in the past and I do not recommend it. It is really important that the teacher checks your child progress and corrects your child form every week. Also, attending weekly lessons will continue the learning momentum and generate mastering a skill more quickly.